Triumph GT6 (1966-1973)
History

The triumph spitfire is a stylish little car by anyone's standards, but when it was new sports car enthusiasts felt it lacked performance. The company responded by developing the Michelotti styled GT6 equipped with the running gear from the two litre Vitesse. The GT6 was released in 1966 with an engine giving 95bhp and loads of torque from the straight six engine. The GT6 sported a power bulge to accommodate the new larger engine. The car was both attractive and performed well. However Triumph initially favored soft rather than sporting suspension, and fitted a devious swing axle rear end which was susceptible to abrupt lift-of oversteer. This earned the car a poor reputation which lingered long after this problem was ironed out. The Mk2 was launched in late '68 with improved rear suspension,a new cylinder head(gave a 9bhp increase in power) and higher gearing. Somewhere in the region of 12000 Mk2's were produced compared with 15000Mk1's and in October of '70 the newly restyled Mk3 was released. This was the best GT6 to date with about 13000 produced but by '73 the design was showing its age and sales tailed off. later models included brake servos and better trim in an attempt to push them onto the market.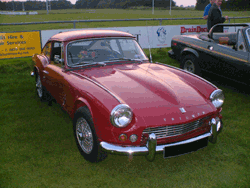 Practicality

The GT6 was sold as a 2+2 but it should be looked upon as a two seater, it does have rear seats but they are so cramped that they are more useful as an extension of luggage space. The two litre straight six engine gives the car relaxed performance, but overdrive models are recommended for high speed trips. Whilst the Mk1 suffers criticism for its handling, the poor handling is only evident if pushing the car to its limits. If you have a more relaxed driving style then you will have no problems with it.
Due to a narrow radiator size overheating can be a problem in town. however fitting an aftermarket electric fan can overcome this problem. Due to its checkered history the GT6 can still be bought relatively cheaply and due to the way the bonnet hinges, access to the engine bay is excellent.
Pretty much all parts are readily available but trim can be expensive.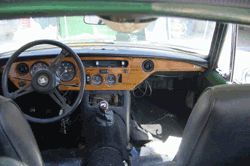 Buying
Due to their low price, GT6's are often bought by "bodger's" who will gloss over body panels with filler rather than repair them properly. however most panels are easy to find so replacing them properly is not a problem. Sills should be checked as these are structural, if these are badly rusted the body will sag affecting door and bonnet shut lines. Check the chassis carefully especially the outriggers and around the front suspension mountings. Check the correct engine is fitted (should begin with a K, M denotes a Saloon engine). The engines are pretty rugged but can suffer from thrust washer wear.
MK1

MK2

MK3

Years Produced

1966-68

1968-70

1970-73

Engine

In-line 6-clynder ohc, all iron,

Capacity

1998cc

Bore/Stroke

74.7x76mm

Max Power

95bhp

104bhp

104bhp

Max Torque

117lb ft

Transmission

Four-speed manual, Optional overdrive

Suspension

Front: Ind, wishbones, coil springs, anit-roll bar


Rear: Ind, swing axles, radius arms, transverse leafspring

Rear: Ind, Wishbones, radius arms, transverse leafsprings

Brakes

Front disc, rear drum, servo-assisted('73)

Steering

rack and pinion

Length

12ft 1in

12ft 5in

Width

4ft 9in

Max Speed

106mph

119mph

0-60mph

12sec

10sec

Fuel cons

25mpg

24mpg

25mpg