Ford Escort RS2000 (1973-1981)
History

The impetus behind the sporty Escorts came from Ford's active competitions department at Borham. Whilst their rally exploits gave birth to some exiting highly tuned road Escorts ( the lotus powered Twin Cam and 16-valve BDA models). When it came to creating hot Escorts with mass appeal, ford opted for the simpler option of installing larger engines from higher up their range.
Mexico escorts had a 1600cc engine and 86bhp. Most impressive was the RS2000. Minor modifications including a new sump and an electric fan allowed the Pinto 1993cc in-line four to be squeezed under the bonnet. This rugged engine initially produced 100bhp, enough to have the RS2000 reaching speeds of 110mph. When the restyled Mk2 Escort arrived, Ford continued the RS2000 giving it a special identity with a polyurethane droop-snoot nose and quad headlamps. Engine output was also raised to 110bhp.
These cars rapidly developed a boy-racer image, but they did offer (and still do) excellent value for money.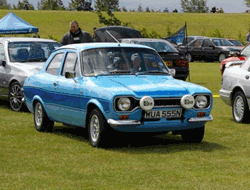 Practicality

With a straightforward unstressed engine in a conventional saloon body the Ford Escort RS2000 is a car that well suited to everyday use. Direct steering and firm ride betray its sporting instincts. However it is equally at home being used gently around town as it is being used quickly on back roads. Motorways aren't ideal, as this cars 4-speed box is geared low for acceleration. apart form some body panels and a few items of trim parts are generally easy to find. Fuel consumption is reasonable, however insurance is high.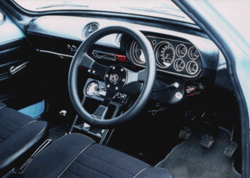 Buying
The first thing to do when buying an RS2000 is to ensure that it really is an RS2000, as it has been known for people to drop a two litre engine into lesser escorts and bolt on a few bits of trim and attempt to pass it off as an RS2000.
Be sure to check for a noisy camshaft which is prone to wear if oil changes are neglected. The gearbox is quite strong and long lasting as is the suspension. Check the usual areas for rust, pay special attention to the boot floor and rear wheel arches as these are problem areas for these cars.

MK1

MK2

Years Produced

1973-75

1976-81

Engine

In-line 4-clynder ohc, all iron, five main bearings.

Capacity

1993cc

Bore/Stroke

90.8x76.9mm

Max Power

100bhp @ 5750rpm

110bhp @ 5500rpm

Max Torque

108lb ft @ 3500rpm

119lb ft @ 4000rpm

Transmission

Four-speed all-synchromesh manual

Suspension

Front: Ind, MacPherson struts, coil springs
Rear: live axle, leaf springs

Brakes

Front disc, rear drum, servo-assisted

Steering

rack and pinion

Length

13ft 1in

13ft 7in

Width

5ft 2in

5ft 1in

Max Speed

108mph

109mph

0-60mph

9.0sec

8.6sec

Fuel cons

27mpg

26mpg