Ford Cortina Mk1 (1962-1966)
History

The Cortina was the start of a run of success for Ford that lasted for about twenty years. The concept for the Cortina came about when Terence Beckett, it's creator, identified a market for a low cost family saloon in the sector above that which was dominated by the BMC Mini, which was launched in 1959.
Disappointing sales of the heavy and somewhat over engineered Ford Classic, and the worrying success of the mini prompted Beckett to created a brand new car which would be the latest in design whilst retaining Ford's "value for money" reputation.
The Ford Cortina had a conventional rear drive with a four speed all synchromeshed box and a 1200cc version of the straight four 997cc engine first seen in the Anglia which was launched in 1959.
The bodywork was crisp and modern, and the basic car was very competitively priced, costing £36 less than the smaller Morris 1100 (£675). Even the better equiped Deluxe model cost only £666.
In 1963 the larger, 1500cc engined, Cortina Super was introduced. Featuring Improved braking and better trim. Estate and GT models were released later in the same year.
More than 300,000 Cortinas were sold within a year of announcement, and the Millionth Cortina rolled off the production line in September 1966.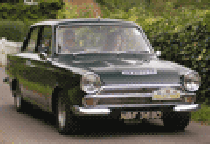 Practicality

Styling Changes to the Mk1 Cortina were limited to a mild frontal redesign in 1965, when the grille was widened to incoperate the indicator lamps. The Consul was also dropped at this stage, however the car did gain front disc brakes and the excellent Aeroflow ventilation system which featured eyeball vents at either side of the newly designed facia. Heaters were an optional extra on early examples, though they were standardised from 1965.
The mechanicals of the Cortina are simple to maintain, the drive trains being common to other Ford models, however body pannels are now becoming scarce as rust was a problem. The engines are very fre revving units, but are subject to bearing wear. Despite the large numbers built the Mk1 cortina is relatively rare, particuarly in estate form.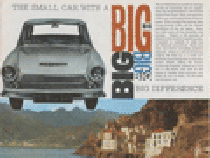 Buying
The main problem with many of the 60's and 70's Fords was rusting of the mountings for the front suspension struts. Check also the underbody, sills and bulkhead and pay close attention to the inner wings. Engine swapping was common, and it common to find the later Kent OHC 1600cc.
1200

1500

Years Produced

1962-66

1962-66

Engine

In-line four cylinder Ohv, cast iron block and head

Capacity

1198cc

1498cc

Max Power

48.5bhp @ 4800rpm

59.5bhp @ 4600rpm

Max Torque

63.5lb ft @ 2700rpm

97lb ft @ 3600rpm

Transmission

Four-speed all-synchromesh manual

Suspension

Front: MacPhearson Strut, telescopic dampers, anit-roll bar
Rear: live axle, leaf springs, telescopic dampers

Brakes

Girling hydraulic drums all round. 8in Front and rear

Girling hydraulic drums all round, 9in Front, 8in rear.

Steering

Recirculating ball

Length

14ft 3in

Width

5ft 2in

Max Speed

76.5mph

80.3mph

0-60mph

22.5sec

19.8sec

Fuel cons

27mpg