Bringing your car out of storage
Many classic owners will have probably decided to put their cars into hibernation over the winter period, it will soon be time to start thinking about bringing your much loved friend out of winter storage. Storing your car over the winter can sometimes lead to problems when the time comes to move it again in the spring, and if you took the correct steps when laying up your car over winter, many of them will have been avoided. (Prior to next winter there will be a guide to laying up your car on this website.) However, further steps need to be taken to ensure that your car will start, and continue to run without problems for the coming year.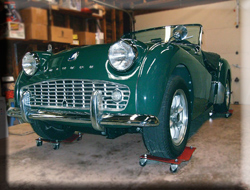 Oil can sometimes be subject to the formation of condensation over the winter months. Before starting the car it is best to change the oil. (Now would be a good time to flush the system with a cleaning solution or to add additives to your oil, I would recommend visiting Wynns website, they have a large range of additives)


Check all fluids before driving, including the coolant and oil levels in both the gearbox and in the differential.


Check the cars tyre pressures. The owner's manual will indicate the ideal pressure for your tyres.


Check the battery and re-connect.


Now will be the best time (the car should already be up on stands) to grease your (cars) nipples and oil your trunnions.


Bleed the brakes and check that all the wheel cylinders are working correctly.


Once you have greased, oiled, drained and refilled everything, you should run the car until warm, and then check for any leaks.


Wash your classic and lovingly apply a good layer of wax and your all set to go.

these tips are applicable to short term storage only