Alfa Romeo GTV (1966-1976)
History

All Alphas, Even the most mundane looking ones are sporty cars at heart. So when Bertone designed the stylish bodywork of the GTV, it wasn't a case of dressing up the Giulia saloon, but rather giving the saloons running gear the home it deserved.
The Alfa's classic all aluminium twin overhead cam engine dominates this car. This versatile, long lived unit has seen many homes over the years. Available in the Giulia GT Coupe in 1300 and 1600cc guises, it wasn't until the 1750cc and 2000cc versions were fitted that alfa added the V suffix, (V is for Veloce.)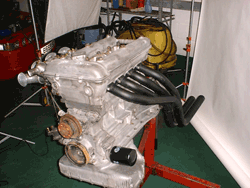 Highly developed suspension and excellent brakes all round and the five-speed gearbox operates with a wonderful slickness lost in the later Pininfarina-styled GTV, with its rear mounted gearbox. The steering (although a recirculating ball system) has good sensitivity and accuracy.

All of this adds up to a package that begs to be driven with a bit of spirit. However its affinity for rust lost this wonderful car friends just as easily as it made them.

Practicality

The GTV's strong sporting character makes it an uncompromising car to drive everyday. You'll also need to forgive its little oddities such as the unusual arms outstretched driving position, cheap looking interior and the odd fitting falling off now and then.
Coupe styling means that although this is a 2+2 the rear seats are very cramped although luggage space is more than adequate.

Crusing on motorways is no problem thanks to the five speed gearbox, however at these speeds the wind noise is very noticeable, more so than on the saloon equivalent. this can be improved with careful attention to the door seals.

Engine parts are readily available but not cheap, but body panels are very hard to come by.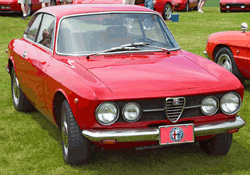 Buying
Rust is the big problem with this car. Although it can be argued that any neglected examples have long since disintegrated and those that survive are well worth restoring (if you can find the panels). Be sure to check sills, wheel arches, front and rear valences and then recheck for craftily concealed filler. Check the floors and concealed inner sills as these are structurally important.
The engine is a tough unit but neglected servicing leads to more problems that hard use, which the engine withstands very well. The gearbox is quite hard wearing, but the syncromesh on second is normally the first thing to go.
Interior trim often gets tatty, and a cracked dashboard top is a very common thing.
1750GTV

2000GTV

Years Produced

1966-72

1971-76

Engine

In-line four cylinder dohc, all alloy, five main bearings. Twin weber/dellorto carburettors

Capacity

1997cc

1992cc

Bore/Stroke

80x88.5mm

84x88.5mm

Max Power

116bhp @ 5500rpm

131bhp @ 5500rpm

Max Torque

120lb ft @ 2900rpm

134lb ft @ 3500rpm

Transmission

Five-speed all-synchromesh manual

Suspension

Front: wishbone, coil springs
Rear: live axle, radius arms, coil springs

Brakes

Servo-assisted discs all round

Steering

Recirculating ball

Length

13ft 5in

Width

5ft 2in

Max Speed

115mph

120mph

0-60mph

9.7sec

9.2sec

Fuel cons

24mpg

23mpg